Dreams Take On New Meaning After 'Last Night in Soho'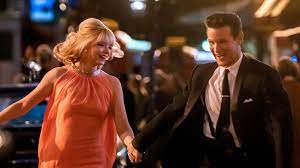 "Last Night in Soho," the newest feature film from Edgar Wright, stars Thomasin Mckenzie as an aspiring fashion designer who is fascinated with London in the 1960s and some of the dangers that once took place there.
This is Wright's first narrative feature film since 2017's "Baby Driver," which at the time was notable for its departure from his distinct flair seen in the Cornetto trilogy. Those movies, "Shaun of the Dead," "Hot Fuzz," and "The World's End," made Wright a notable
pop culture figure. Those movies, which I thoroughly enjoy, consisted typically of more jokes than one could handle along with strong pathos and an awareness of being in on the joke.
"Last Night in Soho" is nothing like that; it's rather dour and lacks the brevity of its director's past filmography, reverting back to the horror of the 60s and 70s, featuring more psychological and grim themes instead of the straightforward and paint-by-numbers
motion pictures from the 80s and 90s.
This new feature feels inspired by the works of filmmakers like Brian De Palma and Dario Argento with themes such as women in distress, unsolved crimes, and addiction. Continued homages to these films are the visuals of this flick.
Cinematographer, Chung-hoon Chung, manifests a beautifully luminescent atmosphere that feels both promising, yet purposefully shadowed in regions. This encapsulates the aura that I believe Wright sets out for his setting, London, both in the present day and in the 1960s.
Our protagonist, Eloise, approaches her move to London as an opportunity to explore a refreshing part of the world, but her grandmother forewarns her that not all glitter is gold, and to be aware of her surroundings.
In addition to this warning, once Eloise settles into her new apartment, she is again confronted by an older woman who tells her that the nostalgia of an era is usually much more favorable than the reality. This happens after Eloise shares that her dream would
be to live in London during the 1960s. As seen through the cinematography, London is indeed a gorgeous and arousing place to be, but can also be dangerous simply by taking the wrong turn down a street.
Eloise is a wide-eyed and excitable woman who is eager to explore. Thomasin McKenzie plays this role to her utmost ability, and she is nothing short of spectacular in the part. This is her best performance to date and may even garner some award contention if it were
not for her doing this work in a horror film, which usually go more unnoticed during awards season than the smelly kid at a dance.
McKenzie walks a tightrope here of being a doe-eyed student and a terrified observer of experiences she cannot escape because they take place in her dreams. Her arc and backstory help immensely to make the audience feel attached to her.
In her first scene, we observe that she is a playful and enthusiastic woman who just so happens to see ghosts, no big deal. The first ghost she encounters is her mother, who took her own life and is said to have suffered from severe mental illness that was also
not helped by the pressure of living in London. This layer to her character immediately sets up several aspects of the film that Wright calls back to with differing success. But first, let's review other portions of the film that work.
Composer, Steven Price, puts his best work to date on display here. Price and Wright have worked with each other several times now, and this is by far the strongest yet. His score is richly enchanting, when we are exploring dream sequences in the 60s era of London, the
score is mystical and full of bravado that feels confident, though not arrogant.
When Eloise is back in the real world, the score is patient and quaint. It's almost as if Price knows the viewer is anxious to travel back in time in a dream again, but is content being patient in his and Wright's hands. Speaking of the dreams in this film, the
addiction Eloise has to avoiding any plans at first in order to get back to sleep as soon as she can is one matched by the audience. This is not to say that the portion of the plot that takes place in the present day is dull, but rather that Wright and his
crew do such a wonderful job manifesting a world that seems euphoric upon first inspection.
McKenzie is perfect; she truly could not be better. Her characterization is openly authentic. She is strong-willed and clearly able to adapt to situations that she may not feel comfortable in–a tough person, who ultimately is just too naive due to her lack of experience
in a big city with differing ethics and personalities.
Due in part to Mckenzie's presentation, we quickly understand why she would rather stay in her room and doze off to old London rather than stay above ground with those who don't respect her.
Anya Taylor-Joy plays Sandy, the woman whom Eloise sees the 60s through. She is an aspiring singer who wishes to headline a popular club and befriends a manager known as Jack, who is played by Matt Smith. This relationship evolves quickly from steamy and sensual
to abusive. Both actors play the roles well; especially when working off one another.
Taylor-Joy gets a tad less to do than maybe expected after her fame boomed due to "The Queen's Gambit" this past year. Even so, she plays Sandy extremely confidently at first. She is a woman with firm aspirations and a desire to be the best, who gets emotionally and physically
stuck in a world where she is nothing but an object.
Unfortunately, for as little of Taylor-Joy we see, Matt Smith is there even less. The man who played The Doctor for a decade in the "Doctor Who" series is a suave endearing fellow to Sandy, who takes advantage of her for his own financial and sexual gain. Smith transforms
from sexy to sadistic at the drop of a hat here and because of how captivating his presence is, it's unfortunate Wright doesn't find a way to showcase more of him.
Another notable showcasing is from Michael Ajao, who plays John. John is a fellow fashion student who is not shy of hiding his admiration and affection for Eloise. Ajao is not a performer I am familiar with prior to this picture but his work here is borderline infectious.
Ajao plays the well-intentioned crush extremely well. His smile and charisma are significant, and the scenes he shares with McKenzie make them both better.
Finally, what Wright film would be complete without the notable older actor to add immediate gravity to the script? From Bill Nighy all the way back in "Shaun of the Dead" to, unfortunately, Kevin Spacey in "Baby Driver." In this film, he acquires both Terence Stamp
and Dame Diana Rigg, who we lost in September.
Stamp plays a role he is well equipped for, which is an untrustworthy, yet ruggedly handsome chap. Sadly the same complaint made for the lack of screen time spent for Smith can be made for Stamp. Although this may be for a reason, without sharing spoilers, Wright's
attempt to wander toward the Argento portion of his storytelling may have been the reason for Stamps' short, yet worthy performance.
Luckily, we do get to spend a fair share of runtime with Rigg. Another role she could pull off in her sleep, playing the strong-willed, no-nonsense woman. Rigg's role expands as the film's plot reaches closer and closer to its conclusion, and it works quite well. Considering
this is the iconic English actor's last role, Wright uses her talents well and even dedicates the film to her.
Shifting toward the mixed aspects of the film, the screenplay was composed by Wright, along with first-time companion Krysty Wilson-Cairns, the latter of which was nominated for best screenplay in just her first feature films script for the 2019 film "1917."
All of Wright's previous works have comedy in them, whether it be a mediocre amount like in "Baby Driver" or when it starts to seep out of his pours as in "Scott Pilgrim vs. the World." This film notably has by far the least intentional comedy of any Wright picture.
It has me hard-pressed to callback on more than a handful of jokes or funny moments, but that is not to say it is a bad thing.
This script focuses on some fresher themes not previously seen in his films, such as women supporting women and severe mental illness, which perhaps may be where his co-writer comes in. These portions of the film do work for me, especially the mental health aspect,
depicted not only through the suicide of Eloise's troubled mother, but also the everyday struggles of a college student and how claustrophobic and intoxicating that environment can be.
Along with these new themes, Wright does reach back to dust off some common threads: paranoia, abusive relationships and a third act revelation. This last concept is the one that suffers the most from the new approach of having no comedy.
Consider the final scenes in "Scott Pilgrim vs. the World" and "The World's End." Both feature an unapologetic exposition dump to explain the motivations of the antagonist and the reasons why the main characters are in the seemingly inescapable situation they're in.
These scenes were filled with witty, and in one case drunken banter that lends levity to a scene that might otherwise feel like the writers are talking down to the audience, which is exactly what a few final scenes feel like in "Last Night in Soho."
One late scene that takes place at a police station feels forced and tedious, as it retells aspects of the story already visited just to really make sure the viewer is all caught up before the final scene takes place. In this case, the scene is woefully boring,
unnecessary, and extremely out of place.
This leads me to my final gripe with the film, it's pacing. Although I believe the anxiousness of desiring to head back to Eloise's dreams is intended. The overall feeling of a student driver taking on the highway for the first time is not one I want to experience.
For a film with a runtime of about 1 hour and 55 minutes, it feels closer to 2 hours and 15 minutes.
It's rare for a film to be released without needing any prior knowledge of who is behind the camera, and yet still be able to recognize the talent behind it. Luckily filmmakers like Tarantino, Gerwig, Fincher, and Edgar Wright are still making films, and with their
distinct creativity imprinted on them. This is what molds their filmography into popular culture.
All in all, "Last Night in Soho" is a refreshing entry into the horror genre, which ultimately left me feeling not completely satisfied partly due to my own high expectations for Wright at this point. I truly think he is incapable of making a bad film, especially
a boring one, but this latest work leaves me just strongly liking it when I ultimately wanted to love it since it has all the ingredients of a film that I would typically be enthralled with.
"Last Night in Soho" is a film that is suitable for horror aficionados and those who tend to stray from the genre, but occasionally seek to give it a chance all the same, and I advise giving it your time.