One BCC Music Class Ends With A New Band, And A Concert
"My idea is you play music, you don't work music. Music should be fun and bring joy," said adjunct Professor of Music Technology Jeffrey B. Mahajan. "There is magic performing and interacting with the audience, and I try to inspire that side of music in my students."
Mahajan's successful efforts were on full display on April 28 in the Black Box Theater, where his Contemporary Music Ensemble class gave a free rock concert to an enthusiastic audience.
"Remember," said Mahajan, "these musicians never met before the start of this spring semester."
Pongsapak "Kay" Kiatpreecha and Brendan Pinnola opened with strong vocals on Weezer's "Buddy Holly." Kiatpreecha followed with a beautiful version of "Hewitt's Daughter" by Grandaddy. Anthony Demario did a fine job on Carolina Liar's "Show Me What You're Looking For," as did Robert Dweck with his mesmerizing vocals on Fleetwood Mac's "Dreams."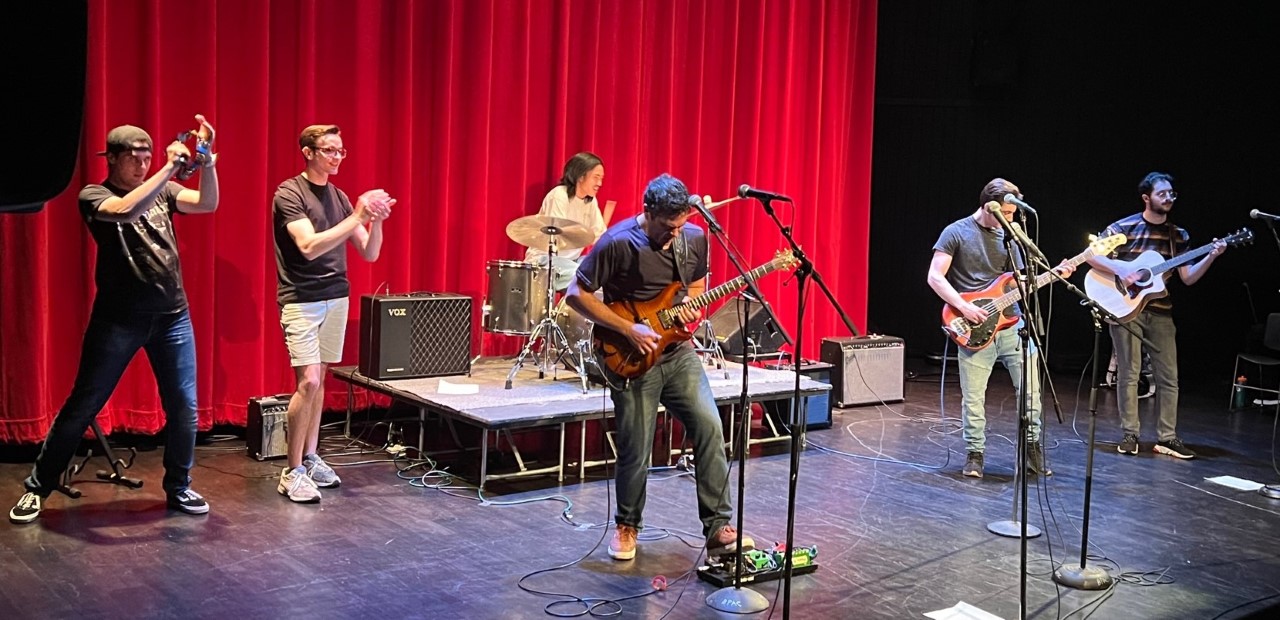 Christopher Procaccino slipped effortlessly into the Indie rock "Still Beating" by Mac DeMarco and skillfully led the encore Dayglow piece, "Run the World." Connor Hackett's skillful drumming added excitement and professionalism to each song.
But it was Brendan Pinnola who wowed the audience with "Holiday" by Green Day, an anti-war song from 2004 that remains politically relevant today. The band was especially tight on this song, and, combined with Pinnola's enthusiastic performance, had the audience dancing in their seats.
Mahajan demonstrated gifted playing and effortless style with B.B. King's "The Thrill Is Gone." He next led with Bob Dylan's "All Along the Watchtower" – demonstrating technique and talent that his students can only hope to one day acquire, while Kiatpreecha switched up instruments and soared on drums.
"This is not just a class. These students are on a mission: to be in a rock band and that comes through in the performance and the way the other students are rooting for their bandmates when they're not on stage. It's all palpable throughout the network they have created," Mahajan said.
How do the students feel? A recent Instagram post from the students read: "Every once in a while, you come across a particular class that sounds so interesting that you just need to be a part of it. Professor Mahajan's class is like no other – one where students can learn the fundamentals of music tech and engineering while also gaining skills in performance, whether singing or playing an instrument."
Anyone can join the Contemporary Music Ensemble class – even non-declared music majors – as an elective. However, many students don't know it exists.
"You'd think it would be well-known that Brookdale has a rock band class –where aspiring guitarists and musicians can form a band – that it would be advertised, but it's not," Mahajan said. "I hope more people catch on to the fact they can join a rock band at Brookdale for college credit, even if they're not a music major."
"I've had life-changing moments with the band, like one time I got us to open for Sublime at the Convention Center in Asbury Park in front of 1,000 people," Mahajan said. "It was the experience of a lifetime!"
"It's my dream to have a touring band playing concerts and spreading the virtue of Brookdale's music program. I feel I'm just getting started with inspiring the youth," he said.
"Most musicians practice, alone, with no outlet for their effort. But what is music, if not the sharing of a performance in front of a live audience?" asked Mahajan.
A seasoned rock performer, Mahajan has a unique perspective on performance details. "All movements on stage are choreographed, and worked out ahead of the performance," he shared.
There's magic in every class as Mahajan works with the students to find what music resonates with them and then encourages their interpretation of that music to make it their own. "The result is a musical adventure we have all contributed to," he said.
From observing Mahajan's joy as he darted around the stage during the performance, grinning widely as the musicians stepped up to the mic to sing and/or perform, it is clear he loves music, loves performing, and is dedicated to the success of each student.
Musicians and performers are fortunate to have an instructor with his talent and dedication teaching at Brookdale.