Student Designers Showcased In Fashion Show
Brookdale Community College's fashion club delivered an inspiring and refreshing talent show May 4.
Student work by introductory and advanced design students was presented first. The looks that walked the runway were part of the student's grade for the semester.
The "Gates of Hell" section of the show consisted of three chapters telling and showing the story of a young actress' journey through stardom from starting out to becoming famous to feeling overwhelmed and destroyed by the industry. The looks transition from delicate and innocent to dark and depressing and even included an outfit with a belt of needles.
The third part of the show were student collections made by Maxim Shores, Eli Ifrah, Aidan Mullins, and Marco Oldhafer. Each student presented about five looks.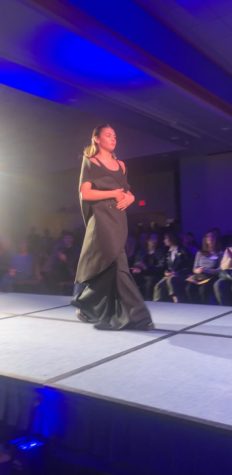 Altogether, there were 33 designers, 42 models, and over 80 looks.
"A lot of time went into this,"  said Annmarie Hughes, assistant professor of fashion merchandising and marketing. "We've been working on this since January. They just started yesterday for the actual setup."
The show was packed with well over 60 people in attendance. Family members even traveled hours to get to the show.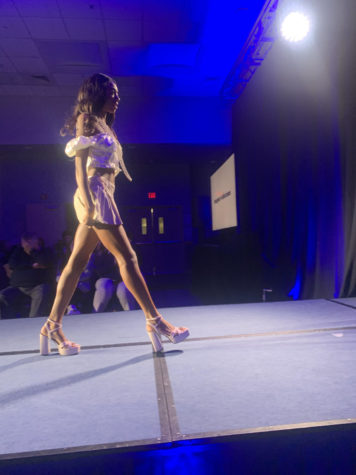 "I know a lot of my classmates are in the show," said Samantha Verbel, an 18-year-old fashion merchandising major from Belford. "I wanted to come and support them."
The fashion show was professional complete with a runway, lighting, DJ, television screens, and a camera crew.
"This is the biggest show we've had in 10 years," said Hughes. "They actually wanted to put more in, but we would've been here for two hours."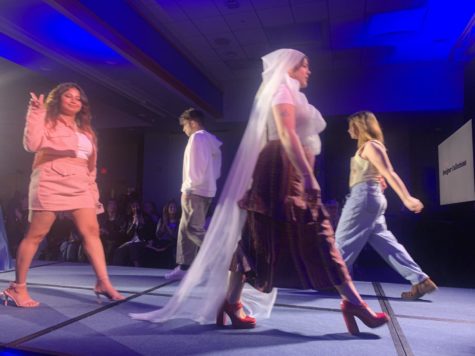 "I wasn't in the fashion club, but it's definitely something I'll do next year," said Verbel. "I know there's a lot of different things you can do. I'm not a design major, but I know even if you do merchandising there's something for everyone."
The fashion club has about 20 to 30 students and meets every Tuesday .
This year the club took a trip to New York which included a fashion show at Laboratory Institute of Merchandising (LIM), a visit to the FIT museum, and Mood Fabrics.
"I don't know if I would do the fashion club particularly," said Ella Healy, an 18-year-old student from Middletown. "But seeing the show makes me want to get more involved. I didn't know we had stuff like this."
The fashion club's instagram is bdalefashion.
The email address is [email protected]