Helping Hands food pantry opens on campus in MAN 214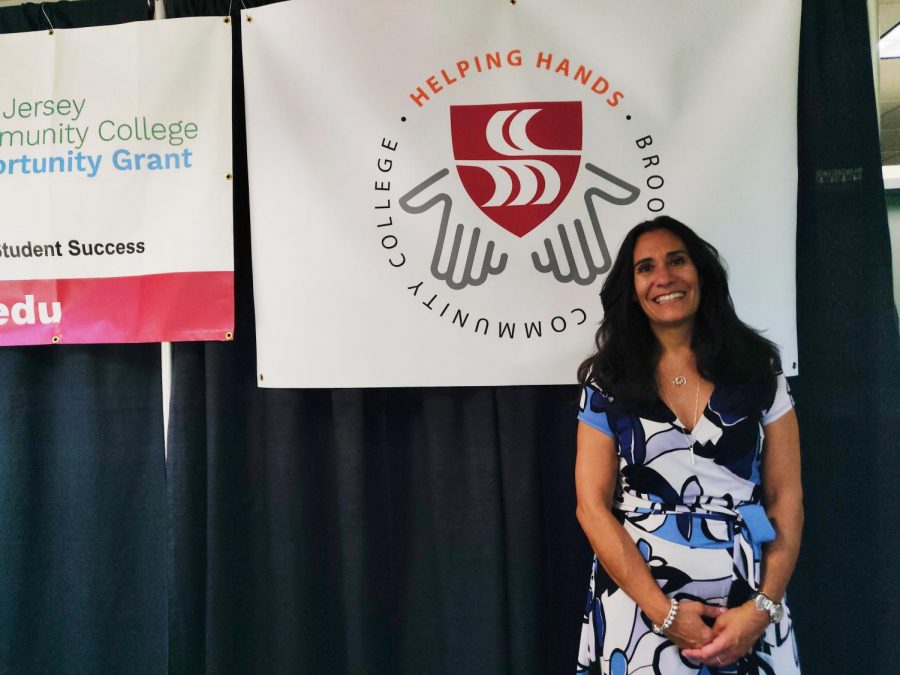 Brookdale President David Stout cut the ribbon for a new food pantry and lounge in MAN 214 during a grand opening ceremony Sept. 17. 
Students coming from high schools where they were offered free breakfast and lunch are not given that same luxury on college campuses. Helping Hands is working to fix this problem and other food insecurity issues by creating the pantry.
During the past few semesters, Brookdale employees worked with students to collect and provide grab-and-go snacks to those in need. But as of Sept. 17, students now have a formal space to go to eat, relax and possibly pick-up a few food items to bring home.
Since the Helping Hands initiative began, orange buckets have been placed around campus filled with nutritional snacks and drinks, and several hundred students have signed up to receive notifications that food is available.
Synde Kaufman, ESL administrator and Helping Hands coordinator, believes that the last of a students' worries should be food. While coming to school, students should be able to focus on their classes and homework. 
The lounge, whose formal hours will be announced in early October, has pre-packaged food, microwavable food, paper goods, drinks and windows all around to create an inviting environment for students. Kaufman also hopes to have an area to store and offer feminine products in the space as well. 
During the grand opening, the space was full of motivational posters and small trinkets such as bouncy balls, bookmarks, Slinkys and more for students to look at or take home with them. Transit maps and information about carpooling in the area were also available. 
On the day of the grand opening, a mobile food pantry operated by the local food bank Fulfill also visited the campus for the first time and will return every third Tuesday of the month during college hour, 11:30 a.m. to 1 p.m..
According to a statistic from Inside Higher Ed on the Helping Hands' website, "as many as 1 in 4 students may not have enough to eat, impacting their ability to succeed in class."  This statistic shows the reality for many students.
Helping Hands welcomes donations and volunteers. They are looking for items such as granola bars, Power bars, cereal bars, Poptarts, trail mix, packaged nuts, fruit snacks, bottled water, juice boxes, and cheese or peanut butter cracker packs. 
Students who are interested can contact Helping Hands directly through their email: [email protected]