Covid-19 Update Around the Nation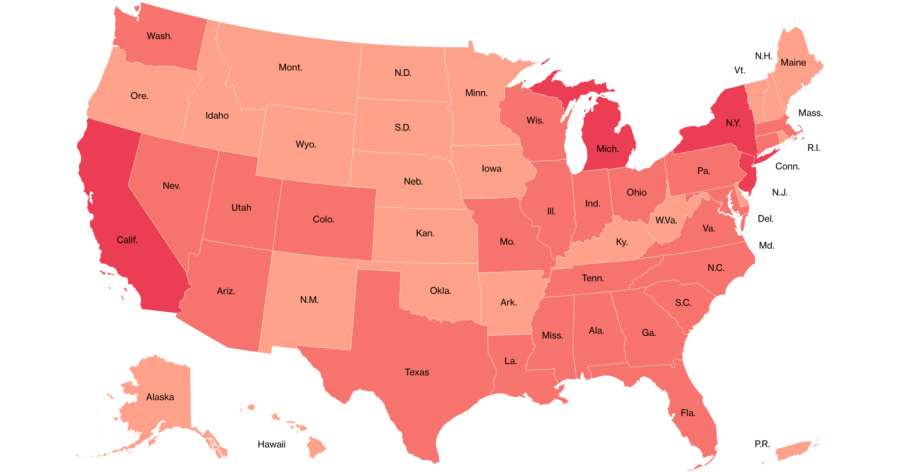 Staff Writers
April 24, 2020
Alabama: According to Alabama public health.gov, as of April 13, there are 3,809 positive cases of COVID-19 in Alabama, along with 103 total deaths. Every county in the state has at least one person who has tested positive for COVID-19. A total of 29,140 tests have been given out. A stay-at-home order was issued by the State Health Officer for all Alabama residents through April 30. On Friday, a new order was announced by the state health officials to close all non-essential businesses statewide. Colorado: According to the Denver Post, The number of patients are coming down and the curve is flattened. According to state officials, thanks to Gov. Jared Polis's statewide order of social distancing and stay-at-home orders, Colorado is experiencing slow decline in patients. 329 people have lost their life to COVID-19, state officials said. 1,556 have been hospitalized while more than 370 people have recovered and been sent home. "The rate of increase of new cases has slowed, and our number of hospitalized patients is growing more slowly, but it is essential that Coloradans continue to practice social distancing," Dr. Richard Zane, UGHealth chief innovation officer and emergency services director, said.
Connecticut: The Hartford Courant reports that Gov. Ned Lamont has been butting heads with Trump over who has the say as to when a state reopens. Trump has backed off on his stance recently, conceding that is a state's jurisdiction as to when they might reopen.
Delaware: Allen Harim Foods, a Delaware-based chicken company, is reportedly being forced to kill up to 2 million chickens before they can be slaughtered and packaged for consumers, according to Fox News. PETA has reached out to Michele V. Minton, the director of live operations at Allen Harim. They have asked that the chickens be killed as humanely as possible, using methods approved by the American Veterinary Medical Association for "non-emergencies."
Idaho: According to Idaho.gov, as of April 13 there were 1,455 positive cases of COVID-19, and 33 total deaths throughout the state. On March 25, the state issued a 21-day order to the residents to self-isolate, and only to leave their homes when necessary. Idaho's governor last week extended the stay-at-home order until April 30.
Illinois: The total number and deaths and newly infected has been steadily growing in Illinois. They now have over 22,000 infected and 794 total deaths. Chicago Mayor Lori Lightfoot recently announced that it is expected for the Illinois stay-at-home order to extend into May according to the Chicago Tribune. Illinois as recently experienced its largest 1-day increase.
Indiana: Indiana's death toll has topped over 500 related coronavirus deaths. Between April 3-16 the state saw its highest number of cases within a 24-hour period. The state has also added restrictions to parks in an attempt to restrict overcrowding. The state is currently working toward coordinating with Kentucky and Ohio for post-pandemic restart. This past Thursday a hospital in Indianapolis celebrated a "milestone" in their fight against Covid-19. Healthcare workers reported no deaths and 19 patients were released. However as of yesterday there are 477 deaths and over 9,000 new cases.
Louisiana: According to the Daily Advisor on April 16 Louisiana officials released new models of the spread of the coronavirus showing four different models. All models showed every region peaking and the curve flattening suggesting that hospitals will not be overwhelmed by new patients through the end of April. Hospitalization and ventilator use has been steadily declining in the state. The last two weeks have been its lowest with only 396 patients needing ventilators and a 10-day low of 1,914 of patients needing hospitalization. Projections have been based on current interventions and officials are concerned that any sudden changes in current interventions such as social distancing could change those models.
Maryland: In Maryland there is a group named ReOpen Maryland protesting in streets. ReOpen Maryland is in protest against the restrictions on the economy given by the governor in response to COVID-19. The group posted an online page that displays a petition wanting Governor Larry Hogan to reopen businesses. Maryland has 8,225 confirmed cases, 456 people have recovered from the virus and there have been 235 deaths.
Massachusetts: A new model shows that Massachusetts could lose over 4,000 people from coronavirus. The state has reported over 1,200 coronavirus-related deaths thus far, and the number of people infected currently is 32,000. Governor Baker has hired over 176 employees to do contact tracing by phone. The state has also said while it's taking social distancing very seriously they do expect the surge of cases to last for a while. Massachusetts cases remains the third highest in the country.
Michigan: According to Mlive.com Michigan has quadruple the number of COVID-19 cases than Ohio, even though Ohio has 17 percent more residents. Metro Detroit has an International with a big business community with high amounts of international travel. The Detroit Airport has been one of only 13 in the country as well as only one of two in the midwest such as Chicago's O'Hare international airport with flights to Europe and Asia since the health pandemic related travel restrictions. Michigan has lots of business ties to China, South Korea and Italy. Protestors have recently begun staging demonstrations against the governor's stay-at-home orders.
Mississippi: Governor Tate Reeves has announced that Mississippi schools will remain closed for the rest of the semester. Seniors scheduled to finish at the end of the semester are still expected to graduate. The state is now monitoring how each school is doing with its distance learning programs. Overall, the state has reported 3,087 cases and 111 deaths. The state's shelter-in-place order is scheduled to expire on April 20.
Missouri: According to the Missouri Department of Health, there have been 209 new cases of COVID-19, with the number of cases reaching 4,895 statewide. 14 additional deaths have been reported bringing the total number of deaths to 147. The state has reported that they have tested approximately 48,803 people in total.
Nevada: As of April 15, Nevada has a total of 3,137 coronavirus cases and 130 deaths according to the New York Times. Between March 14th and April 4th, Nevada saw the three highest weeks of unemployment claims in the state's history. According to the Reno Gazette Journal, Amazon announced that it would hire more than 800 workers in Nevada to respond to an increased demand in the state. More than 300,000 have filed unemployment claims in Nevada since the start of the virus, which is about one in ten Nevadans.
New York: New York now accounts 202,208 positive cases and 10,834 deaths. "We're not going to be able to provide basic services and actually have a normal society if we don't get help from the federal government," Mayor DeBlasio said on CNN. As of April 15, according to The New
York Times, on Wednesday morning DeBlasio said that the shutdown due to the coronavirus outbreak is costing the city billions in lost revenue. Also, New York City will spend $170 million over the following months to give food to residents that are being affected by the outbreak. "we will not allow any New Yorker to go hungry," DeBlasio said. Soup kitchens and food pantries will receive $25 million in support.
Oregon: According to the Oregon Health Authority, there have been 33 new cases of COVID-19, bringing the statewide total to 1,663 confirmed cases. There have been two newly reported deaths, bringing to death toll to 58.
Rhode Island: Rhode Island Governor Gina Raimondo announced that the state has seen 10 more deaths due to the virus. This brings Rhode Island's total to 73 and their infected total to over 2,600. Most of the deaths in Rhode Island have occurred in nursing homes and have been people over the age of 60. The Rhode Island government is attempting to "re-open" the economy as it has taken a hit since the outbreak of the virus.
South Carolina: South Carolina will be reopening some public beaches and stores amid the pandemic. South Carolina retail stores and beaches have been closed for two weeks. According to an article from "The Hill," the virus infection rates have declined. The state has more than 4,000 confirmed cases of the virus and 116 deaths, according to data compiled by The New York Times.
Vermont: As of April 14, Vermont has 752 positive test results out of 10,585 conducted, 29 deaths, 35 being monitored, 31 patients still hospitalized and 33 hospitalized patients still under investigation for Covid-19. According to Burlington Free Press, the Vermont Department of Liquor and Lottery, Division of Liquor Control will allow alcohol licensees to accept expired Vermont driver's licenses or identification cards that expired on or after March 13, 2020 as an acceptable form of identification. This due to Vermont Department of Motor Vehicles offices being closed because of the COVID-19 public health crisis. This exception only applies to driver licenses and IDs issued by the state of Vermont.
Virginia: Governor Northam says that Virginia is not ready to reopen "We are still seeing cases every day" ABC 8 News, Richmond, reported on April 17. The president this week has stated that he wants to implement a phased plan to reopen the state that wasn't uncommon to the state's plan. A day later the president than and began tweeting about relaxing the restrictions targeting Virginia, Michigan, and Minnesota. Calling to "liberate" the states as a response to the public rallies that have been happening in those states. "We're not there yet. Once we are, just like everyone, I want to get back to being as near normal as we can as soon as possible, but we have to be patient," Northam said. "Otherwise, cases will spike, we'll be right back where we started and all of the sacrifices people have already made will have been for nothing." In Virginia, 400 patients are in the ICU and 224 currently on a ventilator. 1,110 people in total have been discharged after being hospitalized with the virus