'Just Dance,' The Motto That Keeps This Club Running
Brookdale students who have dance experience or want to learn to dance should mark Tuesdays at 11:30 a.m. down on their schedules and head over to PAC 101 to join the Dance Club.
The student-run club meets each week and is open to everyone during BCC's
college hours (which means generally classes are not taught at this time).
The club spent the fall semester choreographing a group dance for their spring
showcase, which will take place at the end of the semester.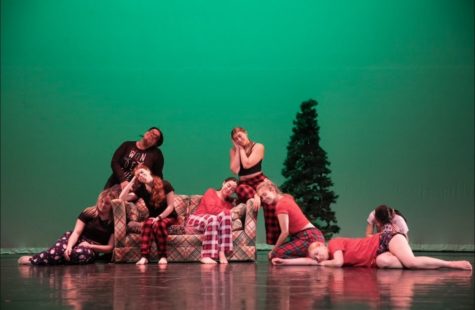 "Dance club has been a great way for me to keep dancing after high school. This
semester we are working on solos, duets, trios, and smaller dances for our spring
showcase," said Brianna Mcquarrie, an 18-year-old business major from Union
Beach.
"I was worried I wouldn't be able to dance after high school, and this club gave me
the opportunity to," said Rachel Dzurina, a 19- year- old business major from
Matawan, who has been a part of the dance club since last year. "I love how we are
also open to new dancers joining the club as well."
"I was really nervous coming to Brookdale, but joining the dance club made me
more comfortable," Dzurina said. "I have made many friends through the club."
"Dance club has definitely evolved from 2020 to now. I took on the leadership role in fall of 2020, my first semester at Brookdale. Prior to becoming president, I was informed that the dance club was no longer active and running." said Arianna Smith, who works alongside club adviser Sherri Vanderspiegel.
"I took on the role as president and offered free online Zoom meetings to Brookdale students that included stretching, workouts, and even playing," said Smith, a 20-year-old liberal arts major from Farmingdale. "Just dance!"
"It was a struggle as not many students wanted to attend Zoom meetings as this was when COVID was still new and in person meetings were not an option."
"We did not have many members, but we fought to keep the dance club alive," she said, noting that
in the fall of 2021 the group was allowed to meet in person and dance
as a team.
"We, as a team, were able to create and choreograph two group dances, two small groups,
as well as many solo routines in which we showcased at Brookdale Performing
Arts Center in May of 2022 along with the theater club. This year we are doing the
same. The dancers and myself have been working so hard to show our love of dance to the world. Our 2023 showcase will be at Brookdale Performing Arts
Center this May," Smith said.
Smith encourages anyone who is interested to join the dance club.
For more information, students can attend a meeting, or email the club at
dancecl[email protected] or the club adviser Sherri Vanderspiegel,
[email protected]
.